The Sorcerer´s Cottage shows the living conditions of tenants farmers on the poor farms in the 17th century during the witchcraze. The exhibition gives a glimpse of their world view and what means they used in their fight for survival - which was sometimes magical staves and other kind of sorcery.
For centuries the turf house was the only type of building in Iceland. The Sorcerer's Cottage is a realistic example of a typical turf house.
Stone is used for the foundation of the Sorcerer´s Cottage while the walls are built with "klambra", turf blocks cut in a certain way and laid in a herring-bone pattern with strips of turf between layers. For the timber frame, uncut driftwood is used, as it would have been at the time. Driftwood is found at the coast of Strandir and was very precious due to the lack of forest in the country.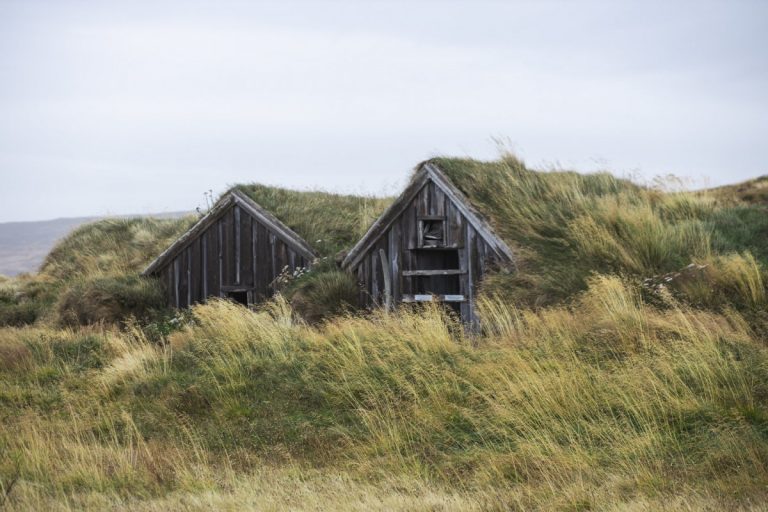 The Sorcerer's Cottage is located 25 kilometres north of Hólmavík. When driving out of Hólmavík, turn right into Road nr. 61. Take a turn into Road nr. 643 into Bjarnarfjordur. The cottage is next to Hotel Laugarhóll. There will be signs for the Sorcerer's Cottage on the way.  
The entrance to the cottages is free. 
Signs and staves seen in the Sorcerer´s Cottage can be found in Icelandic grimoires, some from the 17th century. 
Guðjón Stefán Kristinsson á heiður af byggingu kotbýlisins ásamt sjálfboðaliðum af Ströndum. Viðhald er í umsjá sjálfboðaliða sem vinna undir leiðsögn sérfræðinga í byggingahefðum horfinna tíma.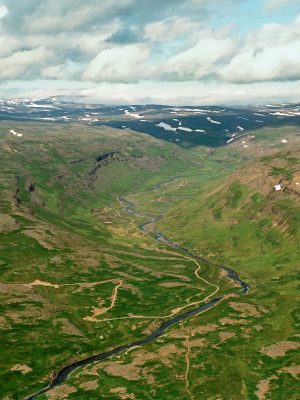 Bjarnarfjordur is a historic place. We encourage visitors to learn more about what is found in the fjord. For guests wanting to make more of their stop an archaeological heritage site, and a small country hotel with a restaurant and swimming pool, are located next to the cottages.  
A few steps away from the cottages is an archaeological heritage site, a beautiful geothermal pool blessed by Gudmundur the Good in the 13th century (1161-1237).
Gudmundur (also nicknamed Gvendur) was a bishop at Holar. Guests can read about the pool and admire it, but bathing is strictly prohibited! The adjacent Hotel Laugarholl offers accommodation, has a restaurant, and a swimming pool open to the public for a modest admittance fee. Please contact the reception in Laugarholl upon arrival if you wish to visit the pool or make use of Laugarholl's services.